The master-class around The Mouse with a Mouth
This master-class presents the film's directing and animation from the director's point of view.


Working on animation - running cycle on a green screen
In this masterclass Andrea Kiss gives a detailed presentation of the different stages of filmmaking. Starting at the preproduction (graphic research, scriptwriting, and adaptation for screen) the director explains what choices and limitations she has met as an independent film maker working on a low budget stop motion film.
The master class is basically intended for young professional audience and film students, but could be enjoyed by film lovers with a basic knowledge in stop motion animation.
During the master class original material of the film like cut out puppets, hand-painted backgrounds, accessories and original documentation of the shooting such as storyboard,animated sequences will be presented to illustrate the different stages of filmmaking.
Question and response sessions altered by explanations and screenings ensure an easy to follow and enjoyable lecture.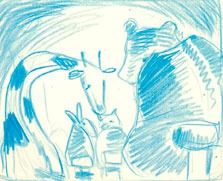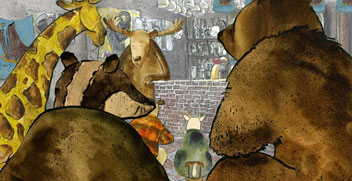 From the story-board to the film frames
It is possible and valuable to present the workshop together with the exhibition The Mouse with a Mouth, from the story-board to the film frames which presents the steps of making a cut-out animation film in 25 printed boards.
More information about the exhibition? http://expo.lemulotmenteur.com











---