The paper cut-out workshop
The paper cut-out workshop is focused on the traditional technique of stop motion animation, making films with the help of paper cut out elements. The workshop is proposed by the association Révélations hongroises which is specialized in the pedagogical activities and workshops around animation film.


Angry Pigeons, a film in the frame of the IVth Animage - International Animation Festival of Pernambuco, Brazil
With this technique, the puppets and elements of the background are painted on paper, cut-out and then, joined with paper joints before they can be filmed frame by frame as a stop motion fim. This technique is easy, efficent and has a very low cost compared with puppet or clay animation.
In puppet animation, one has to constatly keep the puppets firm on ground and make sure they don't fall. There are not such problems in paper cut-out animation: the paper elements lay flat on the glass plate or paper background; therefore it's much easier to light the scene and manipulate the puppets.
That's why this technique is suited for animation film workshops.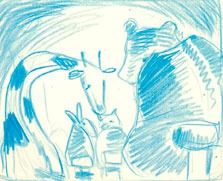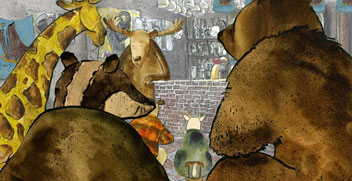 Sketches for The Mouse with a Mouth in paper cut-out elements
It is possible and valuable to present the workshop together with the exhibition The Mouse with a Mouth, from the story-board to the film frames which presents the same steps (making of the film) in 25 printed boards (A3 ou A2).
More information about the exhibition? http://expo.lemulotmenteur.com





---